Working Group 2: Institutional level - Wellbeing Practices in Research Institutions
Co-Chair: tba
The objectives of WG2 are to provide connections between stakeholders active in well-being policies in research environments. Researchers, national/local governmental organizations and institutional actors that are involved in developing and implementing policies within institutions to address mental health, understand prevalence within institutions, reduce stigma and mandate support within institutions will be brought together in order to create evidence-based understanding of what 'best practice' looks like, what the practical challenges are and how they can be addressed, to share institutional learning and break down barriers and taboos in institutions recognising and addressing challenges within their workplace environments.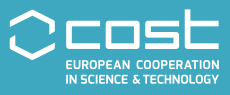 The ReMO COST Action on Researcher Mental Health is funded by the COST Association with support from the Horizon Europe Framework Programme of the EU under the project number CA19117.
COST (European Cooperation in Science and Technology) is a funding agency for research and innovation networks. Our Actions help connect research initiatives across Europe and enable scientists to grow their ideas by sharing them with their peers. This boosts their research, career and innovation.