Data Protection in the context of Surveys
For all respondents to surveys carried out by TIB within the ReMO COST Action, the personal data collected from you is processed on the basis of your consent pursuant to Article 6(1)(a) GDPR. If special categories of personal data are involved, the collection is based on Article 9(2)(a) GDPR. More information is contained in the Information Sheet, "Information on data protection in the context of surveys".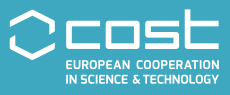 The ReMO COST Action on Researcher Mental Health is funded by the COST Association with support from the Horizon Europe Framework Programme of the EU under the project number CA19117.
COST (European Cooperation in Science and Technology) is a funding agency for research and innovation networks. Our Actions help connect research initiatives across Europe and enable scientists to grow their ideas by sharing them with their peers. This boosts their research, career and innovation.