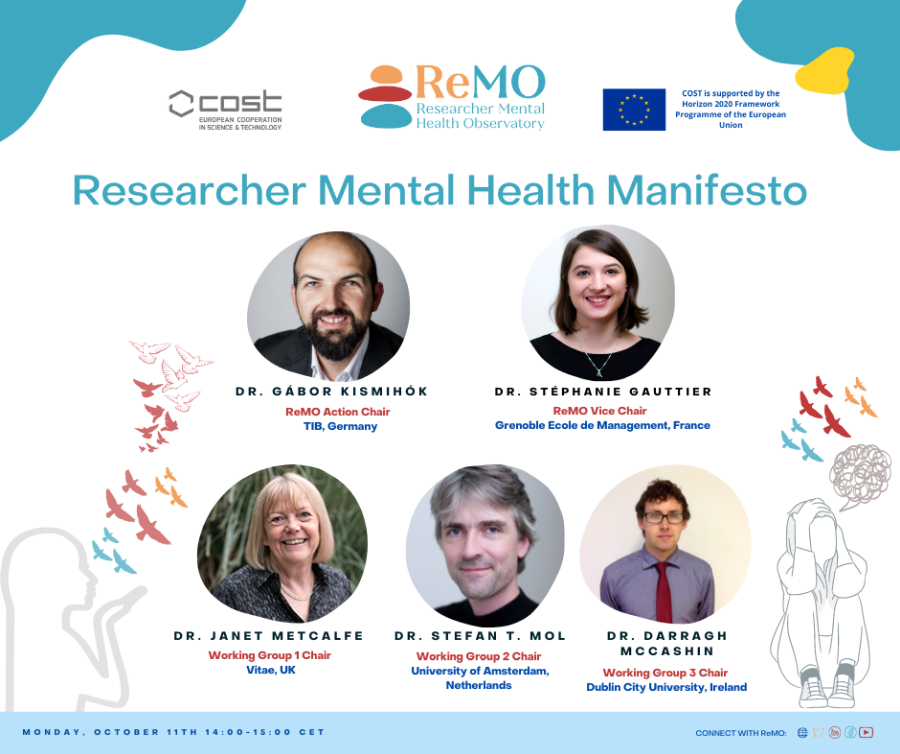 The Researcher Mental Health and Well-being Manifesto calls on stakeholders in the research ecosystem to develop policies to monitor, improve, and maintain well-being and mental health in research environments. The manifesto was authored by Gábor Kismihók, Stéphanie Gauttier, PhD, Janet Metcalfe, Stefan Mol, Darragh McCashin, Jana Lasser, Murat Güneş, Mathias Schroijen, Martin Grund, Katia Levecque, Susan Guthrie, Katarzyna Wac, Jesper Dahlgaard, DR.Mohamad Nadim Adi, Christina Kling and Brian Cahill.
The Manifesto is available open access on Zenodo.
The ReMO COST Action involves a growing network of 240 stakeholders, who work together to identify which practices and actions are effective at creating research environments that foster mental health and well-being, reduce mental health stigma, and empower researchers when it comes to well-being in their workplace. In this Researcher Mental Health Manifesto, the ReMO COST Action's call is presented to assess how the mental health and well-being of researchers can best be nourished and sustained through actions and initiatives at the policy, institutional, community and individual levels.
The Manifesto Launch was aimed at an audience of stakeholders that includes institutional leadership, policy makers, academics of all career stages, mental health practitioners, research career advisors and doctoral school directors. The Manifesto launch was kicked off by ReMO Action Chair, Dr. Gabor Kismihók, where he briefly explained how the process of the project came about. Dr. Janet Metcalfe, called for systemic change in European research environments in her insightful observations and commitment of her group members. Dr. Stefan Mol, emphasized on improved Well-Being Practices in Research Institutions and their possible impact. Dr. Darragh McCashin, insisted on promoting researcher well-being on a practical level. Videos of the contributions to the Manifesto Launch can be viewed below.
ReMO COST Action Chair, Gábor Kismihók, addresses the mental health crisis among researchers
ReMO Manifesto: Janet Metcalfe calls for systemic change in European research environments
ReMO Manifesto: Stefan Mol calls for improved Well-Being Practices in Research Institutions
Darragh McCashin: ReMO Manifesto calls for promoting researcher well-being on a practical level
Stéphanie Gauttier sums up the Researcher Mental Health and Well-being Manifesto
Translations of the Researcher Mental Health and Well-being Manifesto
The Researcher Mental Health and Well-being Manifesto has been translated into many languages in order to more effectively raise awareness of mental health in academia in many countries: