Upcoming and Completed Events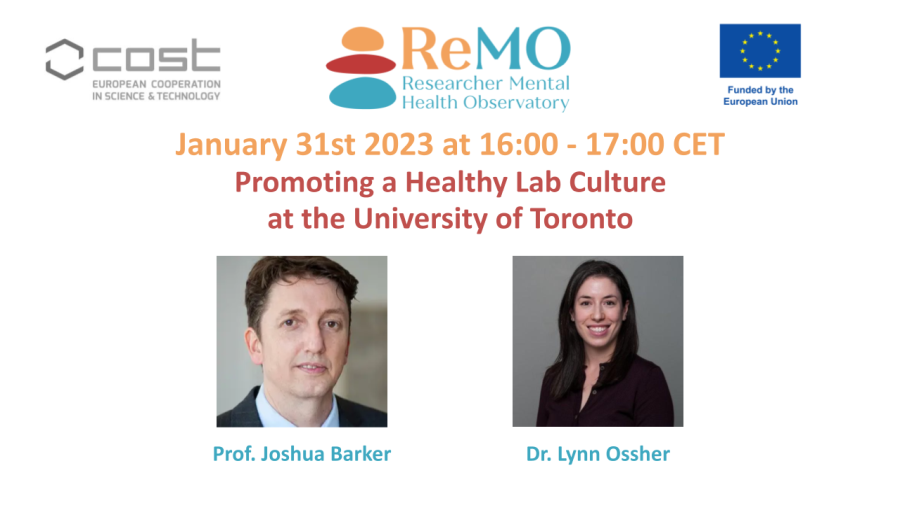 Register in advance for this webinar: https://us02web.zoom.us/meeting/register/tZwrdeqrqjwtGNUQ-6XDwqjCy5ClnYWCSwI_
The University of Toronto is the leading research-intensive university in Canada. Through setting up the Healthy Labs and Research Teams initiative, the University of Toronto recognizes the vital importance of healthy laboratory environments for researcher success, and for the quality of research that stems from our laboratories. The Healthy Labs and Research Teams initiative was set up with three main aims:
Identifying and celebrating global and local best practices in lab management

Developing a Healthy Lab 'Charter', which individual laboratories at the University could adopt

Outlining a strategy for delivering Healthy Lab educational programming to researchers
The initiative was developed through a series of consultations with key stakeholders on local best practices and challenges within the University of Toronto lab ecosystem, including graduate students, postdoctoral fellows, lab assistants, faculty members, chairs, and senior administrators. The initiative calls for a cultural shift from considering graduate students and post-doctoral fellows strictly as employees working on their supervisor's project to scholars and mentees enrolled in training programs where research training is central but includes time for course work, teaching, professional development and personal life, all within an open, supportive, collaborative, and healthy lab environment that recognizes wellness and equity, diversity, and inclusion as core values.
In this presentation, Dr. Barker and Dr. Ossher will describe the Healthy Labs and Research Teams program and outline the lessons learned during the program's development and its initial stages of implementation.
Joshua Barker is Vice-Provost, Graduate Research and Education, and Dean of the School of Graduate Studies at the University of Toronto. Previously, he served as Vice-Dean Graduate Education in the Faculty of Arts & Science, Director of the Asian Institute at the Munk School of Global Affairs, and Acting Chair of the Department of Anthropology. Dr. Barker is a cultural anthropologist whose research focuses on urban Indonesia and science and technology studies.
Lynn Ossher is the Projects Officer, Graduate Research & Program Culture at the School of Graduate Studies at the University of Toronto. She previously worked at the University of Oxford in the Motor Neuron Disease Centre and the Nuffield Department of Clinical Neurosciences in research management roles, focusing on research operations, research policy, governance, and strategic initiatives.

25th-26th August, 2022, Budapest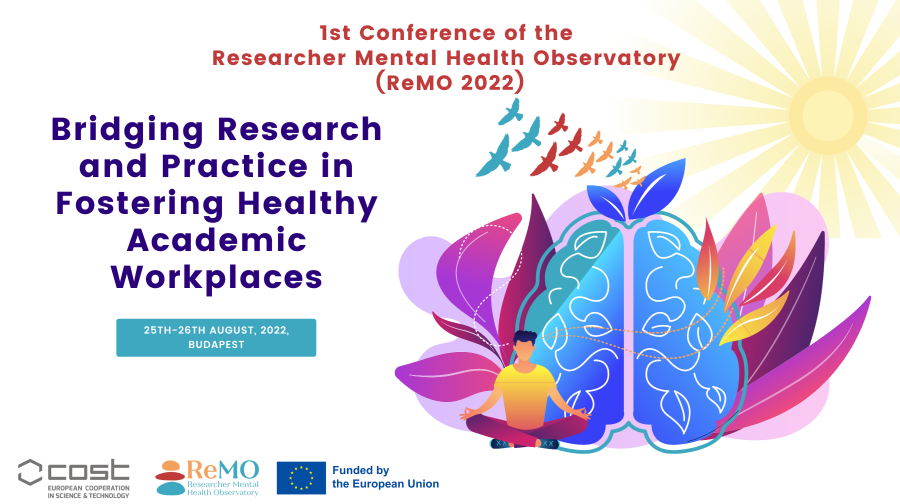 THEME
"Bridging Research and Practice in Fostering Healthy Academic Workplaces"
The ReMO COST Action focuses on wellbeing and mental health within academia, a theme of strategic importance for the European Research Area and beyond. We would like to invite our fellow researchers and practitioners to critically think about Bridging Research and Practice in Fostering Healthy Academic Workplaces. How can stakeholders in the research environment contribute to tackling this challenge in a rapidly changing world? We therefore hope for an inspiring conference with presentations, workshops and keynotes that will not only showcase the newest findings about the cognitive, motivational, and emotional aspects of Researcher Mental Health and Well-being, but will also be a place to discuss the global challenges that shape the present and will define the future of our research workplaces.
The conference will be a hybrid conference within the content of the ReMO COST Action with free online participation and in-person attendance at the Central European University in Budapest, Hungary.
For more information about the conference, click here: https://projects.tib.eu/remo/remo-2022-conference/.
Being an Ambassador for Researcher Wellbeing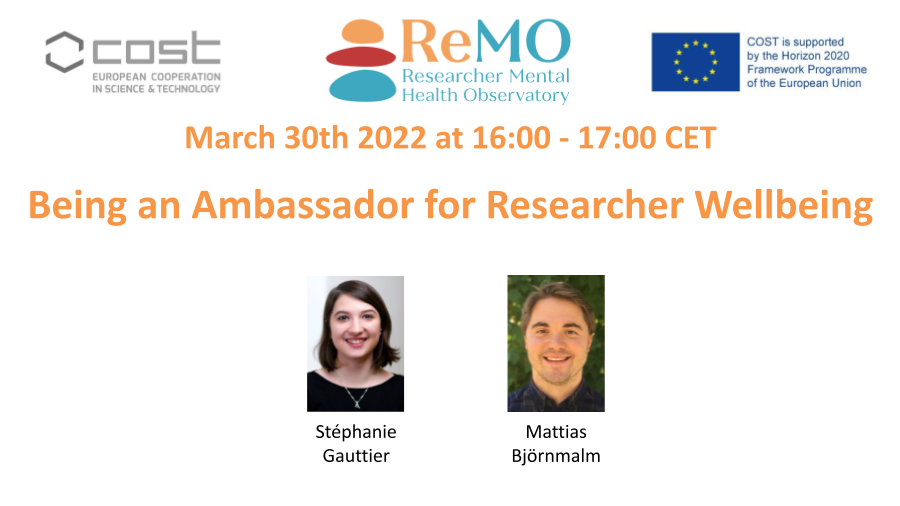 This webinar will launch a call for participation in the ReMO Ambassador Programme: Becoming an ambassador for wellbeing in academia. The Webinar will describe our vision for the ReMO Ambassador Programme, who should take part, the training and network-building that the programme will provide and give an overview of what is expected of ReMO Ambassadors. The webinar will also provide the viewpoint of a researcher, who became a passionate advocate for mental health in academia during his postdoctoral studies and is now Deputy Secretary General of CESAER, an alliance of European universities of science and technology. This unique viewpoint will provide the ReMO Network with insight into how evidence-based advocacy can lead to systemic change within research institutions and our wider research culture.
Dr. Stéphanie Gauttier is Vice Chair of the ReMO COST Action and Assistant Professor at Grenoble Ecole de Management doing research at the intersection of information systems, human-computer interaction, and ethics. Stéphanie Gauttier specializes in qualitative methods, especially Q method. Stéphanie received her PhD in Information Systems Management from the University of Nantes. She has a masters in Political Sciences and a masters in Communication Sciences, and over five years of experience in the marketing industry. As a result, her research crosses disciplines and was applied to consumers (PhD), learners (EDUWORKS), and more recently to the healthcare domain (Responsible-Industry and GLASNOST). She was awarded an individual Marie Curie fellowship in 2018, was nominated on the list of 400 women in the NL across all industries in the "bright mind" category in 2018, and received the Brenner award for her work in Q-methodology in 2019. Stéphanie worked for over 5 years for the Publicis group in Russia before embarking on an academic career.
Dr. Mattias Björnmalm is an experienced scientist & policy professional. He is the Deputy Secretary General of CESAER. His other engagements include as an Honorary Research Fellow at the Bionics Institute and as an invited member of the World Economic Forum Expert Network. Previously, he led the research project qBionano at Imperial College London, was an Editor in science & policy for the journal Angle, and was Vice-Chair of Policy for the Marie Curie Alumni Association. In 2018, he was interviewed by Nature about how research culture lies at the core of many scientists' mental-health issues and how evidence-based advocacy can lead to systemic change. Mattias led a workshop session at the 2018 Vitae Conference on "Healthy and supportive environments for PhD candidates: paving the way for good practices". In 2019, he was awarded an Imperial College London President's Award: "recognized for outstanding achievements in policy engagement".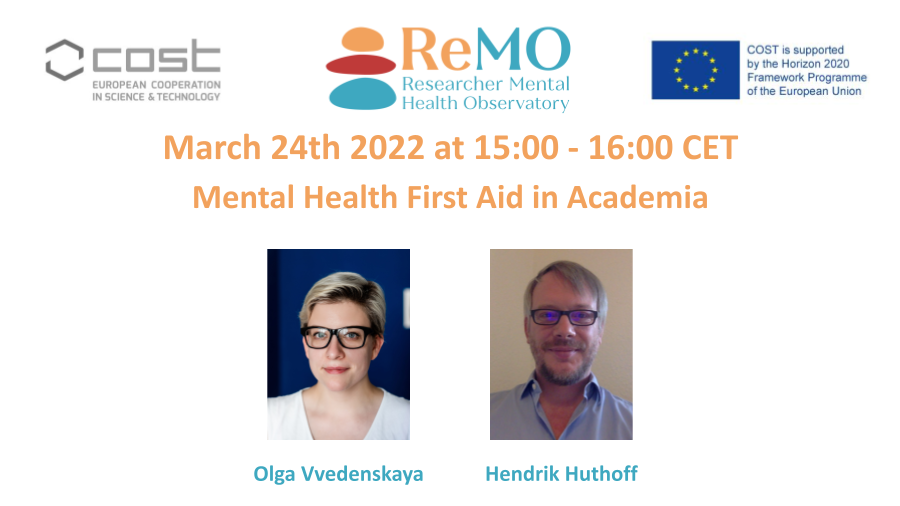 This webinar will present an overview of Mental Health First Aid programmes within universities. Hendrik Huthoff and Olga Vvedenskaya will discuss what they have learned from their experience of setting up Mental Health First Aid programmes and answer questions from the ReMO network.

Dr. Hendrik Huthoff is the Head of Education at the Jena School for Microbial Communication at the Friedrich Schiller University where he is responsible for the training program of doctoral and post-doctoral researchers. During his chemistry studies and his PhD research, he developed a severe anxiety disorder that had a major impact on his life despite finding ways of successfully completing his scientific work. Nowadays, he is active as a mental health advocate to improve provisions at institutes of higher education and to highlight that mental health problems can be solved with the right kind of support. In 2021, he set up the first Mental Health First Aid team at a German University.

Dr. Olga Vvedenskaya was born in Moscow, Russia. She studied medicine specializing in medical biophysics in Moscow and worked on her MD thesis devoted to traumatic brain injury and mass spectrometry in the University of Pittsburgh, USA. She further did her PhD in Berlin, Germany working on multi-omics approach to research of liver cancer and pre-cancerous conditions. She continued her work in translational medicine and mass spectrometry in Dresden, working as a postdoc in MPI-CBG. Olga is an advocate for academic mental health through cofounding Dragonfly Mental Health, where she is CAO.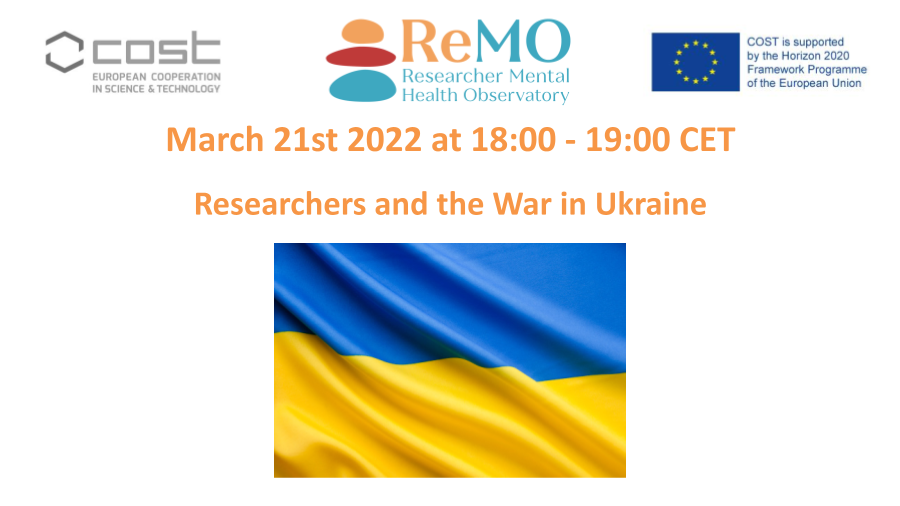 This Webinar gives a voice to Ukrainian researchers affected by the Russian Federation's acts of violence and aggression against the people of Ukraine.
Representatives of the Council of Young Scientists of Ukraine, Olesia Vashchuk and Oleksandr Berezko, will report on how the war affects higher education in Ukraine, their lives and careers and the effect on the mental health of the Ukrainian people. The Council of Young Scientists of Ukraine has worked with Eurodoc to secure the practical support of European researchers for Ukrainian Early Career Researchers. We will also speak with a psychiatrist, who is actively working with hospitals in Kyiv to treat patients and family members traumatized by the war and direct acts of violence against them. Finally, the webinar will feature Oleksandra Ivashchenko of Science for Ukraine, who will make an overview of the effort of those outside Ukraine to support Ukrainian researchers and how the members of our ReMO COST Action Network can help out.
Evidence-base with regard to Researcher Mental Health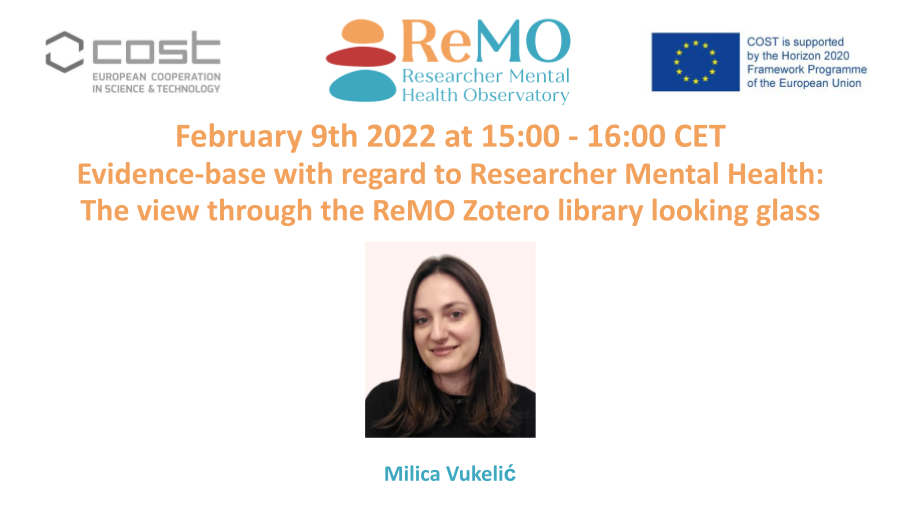 One of the main aims of ReMO COST action is to develop a conceptual framework and tools that are tailored for both academics and other relevant stakeholders (practitioners, research managers, policy makers, and wider audience). ReMO takes a multilevel (research, practitioner, management and policy) perspective on researcher mental health and problem generating mechanisms. To these ends, the ReMO network has created an Evidence Hub (https://www.zotero.org/groups/2521493/researcher_mental_health/library) that collects much of the extant literature and evidence concerning researcher mental health. This webinar describes work performed in the framework of a ReMO virtual mobility grant to develop a strategy for managing the Evidence Hub through categorizing and extending the collection. This webinar will facilitate knowledge transfer within the network with regard to research gaps that the ReMO nework is well placed to address.

Milica Vukelić is an assistant professor at the Department оf Psychology, Faculty of Philosophy, University of Belgrade, Serbia. Milica received her doctoral degree in psychology from the Department of Psychology, Faculty of Philosophy, University of Belgrade in 2015. She has more than 10 years of experience in university teaching, research, and HR consulting (for various national and international companies). Her main topics of interest are work and organisational psychology, career development, workplace bullying and stress, work engagement and wellbeing. Milica has published more than 50 research papers and served as a reviewer for many national and international journals. Currently, Milica is a member of ReMO COST Action CA19117, and a member of Future of Work and Organizational Psychology (FOWOP) collective. She was a researcher and consultant on many international and national research projects funded by UNDP, UNICEF, World Bank, ILO, WUS Austria, IFRC, GIZ, and the Ministry of Education and Science, Republic of Serbia.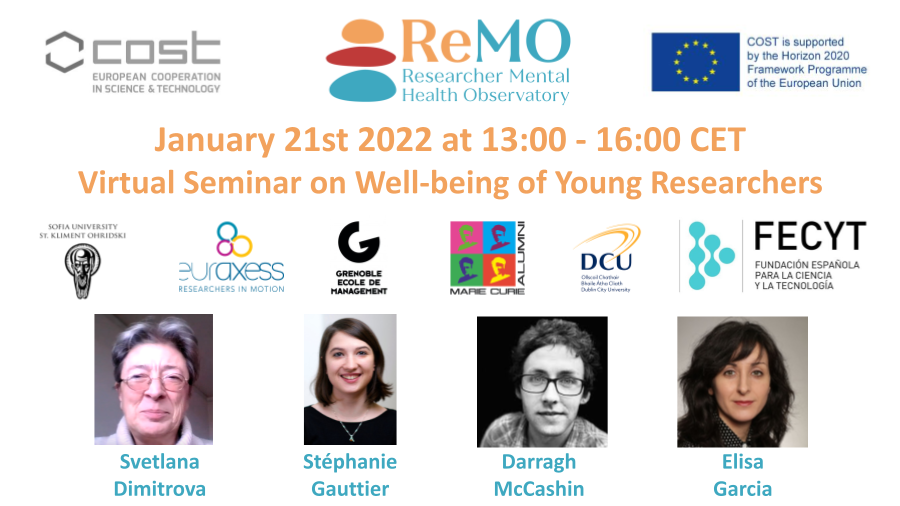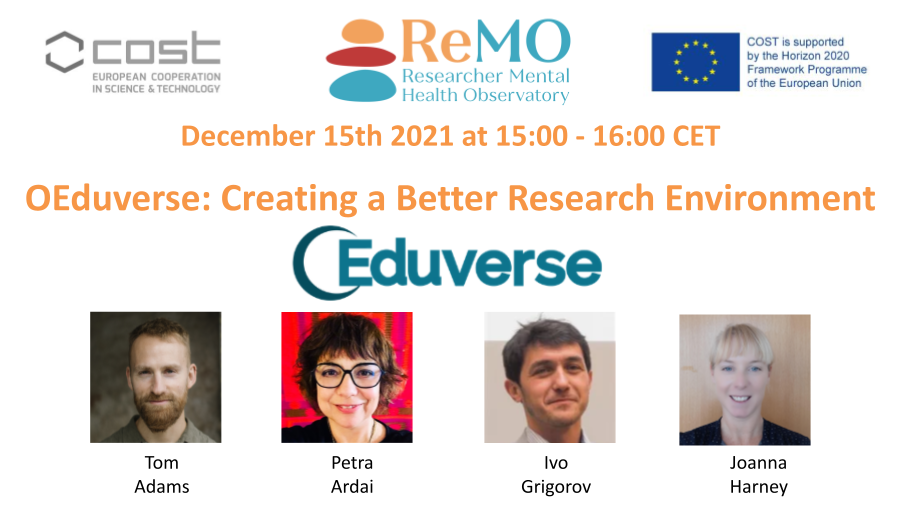 This webinar will be hosted on Zoom. Register here: https://us02web.zoom.us/meeting/register/tZAvcu2spjMjEtOD0QByNAUytKj3GwrAoMbi

In today's growing competitive landscape in research careers, it has become more important than ever to advance the skills needed for a sustainable career in research. Researchers need to be experts in research management, aware of the diversity in groups and disciplines, and manage stress in order to have a long, successful career. Importantly, researchers also need to be able to engage broader audiences, being confident, capable communicators. OEduverse presents a roadmap for research environments by focusing on Mental Well-being, Open Science and Communication & Immersive Storytelling. This webinar features experts on these topics.

This webinar features the following representatives of Oeduverse:

Jo Harney is a Counselling Psychologist in the position of Training and Groups Manager at the Student Counselling Service in Trinity College Dublin, Ireland. She specialises in working with students supporting them to achieve mental wellbeing to reach their potential during their academic careers.

Tom Adams is a Psychotherapist and the Postgraduate Liaison at the Student Counselling Service at Trinity College, Dublin. Tom's professional interests include Compassion Focussed-Therapy, dreamwork, and Jungian-oriented psychotherapy.

Ivo Grigorov holds a PhD in Marine Science, currently provides support across the research grants lifecycle at the National Institute of Aquatic Resources (DTU-Aqua). Personal interests focus on Open Science and optimising strategies for societal impact of research projects.

Petra Ardai is theatre-maker, teacher of performance studies and scenario writer. She is the artistic director of the Amsterdam and Budapest based art collective SPACE. Petra has wide experience in immersive storytelling in various media.

The Oeduverse Winter School takes place online from Jan 10-14, 2022. Register here: https://oeduverse.eu/events/oeduverse-winter-school/
Training Workshop: How to ensure mental health and well-being for researchers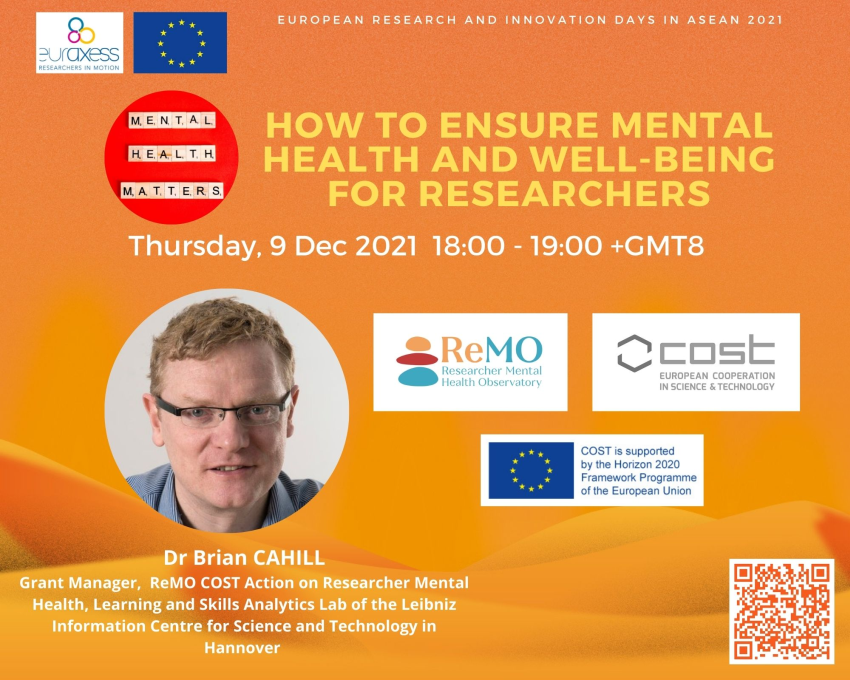 Organisational misconduct in academia and whistle-blowers' mental health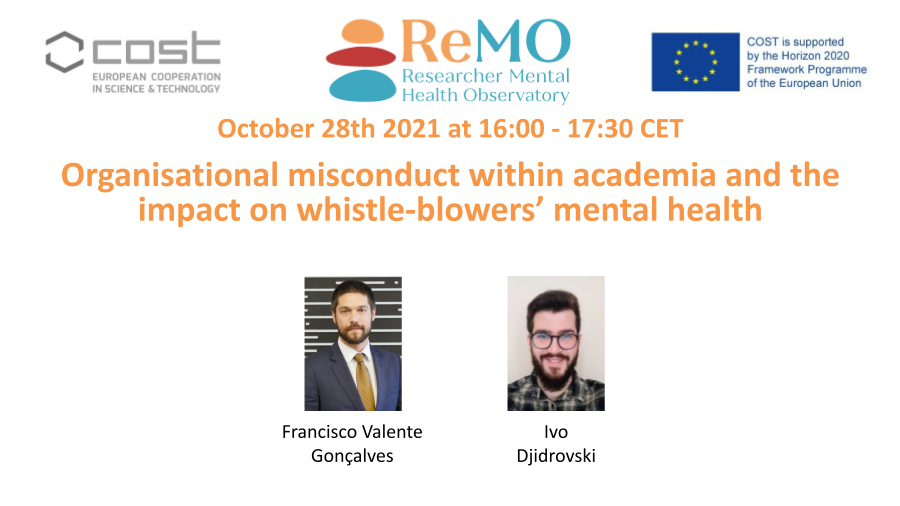 Whistleblowing is reporting any type of irregularity found within an organization, which could harm the organization itself, its employees and/or society. Individuals within an organisation may fear negative consequences: hence organisations should focus their human and technological resources on investigating tips from reporting lines. This session explores this topic by presenting some research on the implementation of whistleblowing channels within academia. Results suggest that some universities still ignore the need for reporting misconduct, allowing fraud or harassment to be obscured and damaging researchers' wellbeing. The discussion will assess how to facilitate whistleblowing within academic settings.

Speaker:
Dr Francisco Valente Gonçalves is a certified clinical and forensic psychologist, currently working within the Forensic & Integrity Services team at EY, where he works on topics related to Integrity, Compliance and Behavioural Ethics on a corporate level as well as detecting deception within fraud investigations. Francisco co-founded RUMO.Solutions, a platform for online therapy that currently serves individuals and organisations in +15 countries. Francisco was awarded the Best Practices Award 2021 (Portuguese Body of Psychologists), 2020 Top 3 European Young Researcher Award (EuroScience), 2019 Social Impact Award (Marie Curie Alumni Association) and the 2018 Bridging Career Gaps Award (MSCA). Francisco has promoted well-being within the research community through the MCAA Annual Meetings Workshops, EuroScience Open Forum, ReMO COST Action and OSCAR (Erasmus+).
Ivo Djidrovski is an inventor with bachelors and masters from Lyon University. During his PhD (MSCA-ITN in3 project) at Newcastle University and Newells Biotech, he successfully patented an iPSC derived airway model and presented his work in the UK parliament (STEM for Britain). His research focuses on developing in-vitro models from iPSCs for use in toxicology and drug discovery.
Mental health challenges and ethical dilemmas - approaches to dealing with uncomfortable situations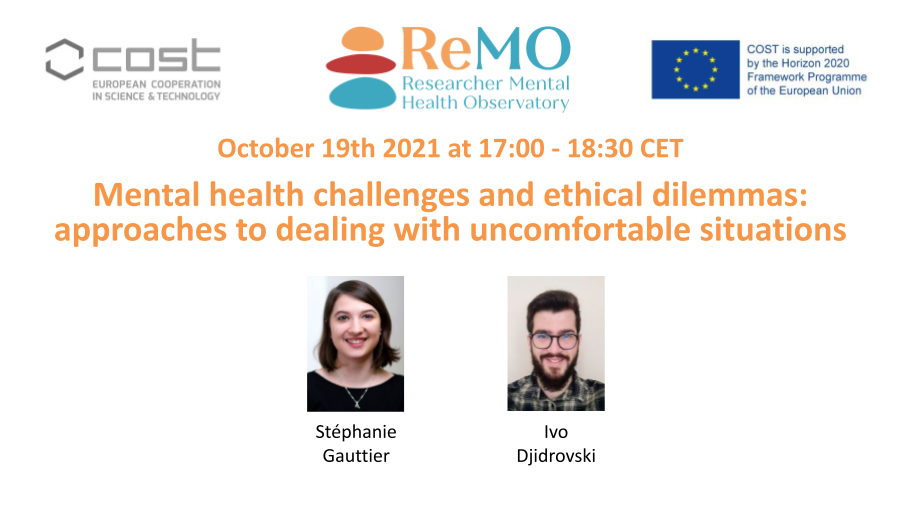 The COST Action on Researcher Mental Health (ReMO) invites you to the webinar hosted by Stéphanie Gauttier and Ivo Djidrovski on Tuesday 19th October from 17:00-18:30 CET.

Some researchers experience working environments where power imbalances, supervision struggles or breaches of research integrity are unfortunately present. Coping with such situations can cause numerous mental health issues, including depression, imposter syndrome or work related stress. During the webinar, we will reflect on these challenges and offer some tools that can help individuals to gain clarity on how to approach these situations.
EARLI 2021 Conference Abstract: Doctoral education during the pandemic and beyond: challenges and strategies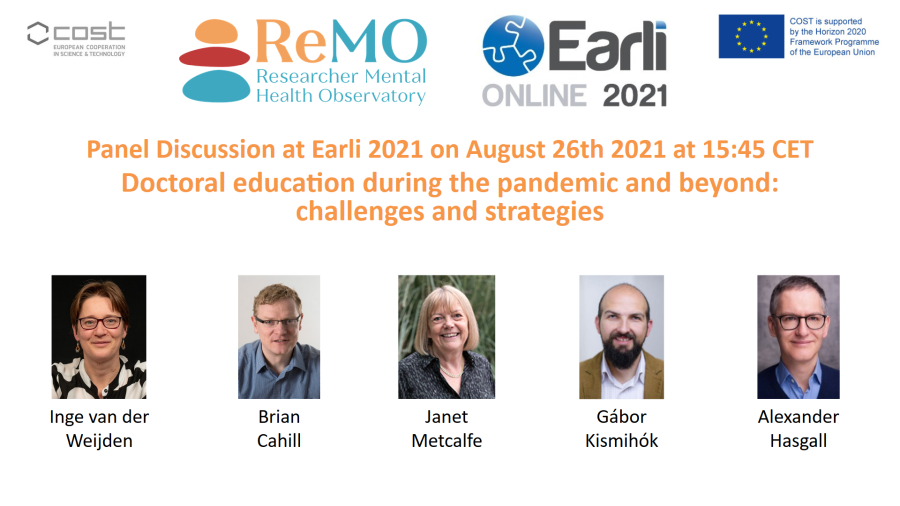 EARLI 2021 Conference, Thursday 26th August, 15:45 – 16:45 CET
Type of Session: Panel Discussion
Chair: Brian Cahill
Speakers:
Janet Metcalfe of Vitae

Inge van der Weijden of Center for Science and Technology Studies of Leiden University

Gábor Kismihók of Learning and Skills Analytics Group of Leibniz Information Centre for Science and Technology University Library

Alexander Hasgall of European Universities Association Council on Doctoral Education
Abstract:
This session will discuss how the COVID-19 pandemic has affected early-career researchers and what lessons can be learned for doctoral education and training with a special focus on doctoral programmes in educational research related areas. Since the introduction of lockdowns throughout Europe during March 2020, many researchers have been forced to modify, restrict or reduce their research activity. Home working may suit some researchers but research work often depends on access to laboratories, research infrastructure, field work and archives. For those with parental responsibilities, the lockdown was accompanied by a closure of schools and childcare that reduced the time available to work from home. International researchers have experienced greater isolation. In particular, we will highlight issues related to the mental wellbeing of PhD candidates and discuss survey data showing how the crisis has exacerbated mental health issues among early-career researchers. This session will present and discuss strategies and practices from and for doctoral programs, including shifting PhD supervision, evaluation and promotions online, provision of online doctoral training, improving digital communication in doctoral supervision, securing doctoral funding extensions and handling restrictions in international mobility.
Extended Summary:
The COVID pandemic has had a huge impact on our societies and universities since March 2020. Doctoral candidates are the most junior level of academic researchers and have been more exposed to insecurity during the pandemic.
This session will depart from the currently available evidence of pitfalls in doctoral education and assessing the prevalence of mental health issues among early-career researchers before the pandemic. Often those most affected are those, who experience inequality, such as, younger researchers, female researchers, international researchers and those with caring responsibilities. The session will discuss the evidence of the prevalence of mental health issues among doctoral candidates, how COVID-19 exacerbated such mental health issues and discuss the effectiveness of interventions.
There will be a discussion of how existing EARLI research sheds light on a particular theme, or by considering new lines of research that need to be pursued.
During the session we will cover 4 important viewpoints:
1. Pre-Pandemic Assessment of Researcher Wellbeing. The emergence of lower levels of mental health among researchers predates the COVID pandemic. Inge van der Weijden is a leading researcher on the motivation, selection and evaluation of researchers in order to better understand their career development and to provide insight to policymakers and institutional stakeholders on higher education policy. She co-authored the report, The Mental Well-Being of Leiden University PhD Candidates, that proposed concrete measures for institutions to support the mental health of early-career researchers by:
appointing independent psychologist for PhD candidates,

establishing a supervision team for international PhD candidates,

providing career coaching for both non-academic and academic careers,

providing supervisor training for both new and experienced supervisors,

providing transparency with regard to the requirements PhD candidates must meet,

supporting independent PhD mentoring groups,

frequently monitoring of the well-being of PhD candidates and

evaluating chosen interventions.
2. Impact of COVID-19 Crisis on Researcher Wellbeing. We will examine the impact of the COVID-19 crisis on the research work, mental wellbeing and social connection of early-career researchers and research staff as evidenced by Janet Metcalfe's work as part of the SMARTEN/VITAE survey. This survey examined changes to employment outside of academia, living arrangements, caring arrangements and support by supervisors and by universities. The survey found that inequalities in research were a clear predictor of being more impacted by the COVID pandemic with females, caregivers, researchers with a physical disability or long-term illness and international researchers being more likely to be struggling with their mental wellbeing.
3. Digitization of the research environment. Although conferences, physical training courses and university lectures have been greatly restricted, there has been a strong increase in the uptake of digital transferable skills training during the last 12 months. Personalization of researcher training is not a novel discussion, however, the current COVID situation put this issue - together with the digitization of research environments - into the spotlight as well. Gábor Kismihók will contribute to the discussion from the point of view of learning and skills analytics, and showcase how to support early-career researchers in improving their career perspectives by assessing their skills gaps and recommending personalized training opportunities.
4. Institutional Adoption. Doctoral Programmes have adapted their programmes to meet the demands of COVID and the EUA Council of Doctoral Education has played a strong role supporting universities to make changes that will support the mental wellbeing of doctoral candidates. In particular, the EUA-CDE worked with European doctoral programmes in providing guidance and examples of good practice in response to the COVID-19 pandemic with regard to:
Online assessment and doctoral dissertation defence

Online skills training and supervision

Supporting doctoral candidates' mental health and well-being

The effect of the pandemic on collaborations and funding of doctoral education
In the aftermath of the impact of the COVID-19 pandemic on the mental wellbeing of doctoral candidates, this session suggests actions and practices that institutions can take not just to respond to this crisis but to improve the outcomes of doctoral education in general
Register in advance for this meeting:
https://us02web.zoom.us/meeting/register/tZYvcuqhrzouGdZoyfNwt9DGYlCJVF2c1Rjx
After registering, you will receive a confirmation email containing information about joining the meeting.
The recently published report of the Expert Group for the OECD Global Science Forum on "Reducing the precarity of research careers" had a particular focus on postdoctoral researchers holding fixed-term positions without permanent or continuous employment prospects. This webinar features the manager of the project and a member of the Expert Group. Cláudia Sarrico will discuss the main findings and insights that can be drawn from the evidence base assembled by the project and the main challenges faced by the research precariate. Neda Bebiroglu will present the main recommendations of the report and suggested policy options: to improve working conditions and professional development, better link funding to human resource policies, make governance more inclusive, promote equal opportunities and diversity, improve human resource management, promote inter-sectoral and international mobility, and develop the evidence base on research careers.
Prof. Cláudia S. Sarrico is Professor of Management at the School of Economics and Management of the University of Minho, and senior researcher at CIPES Centre for Research on Higher Education Policies, Portugal. She led the project on Reducing the Precarity of Research Careers at the Global Science Forum of the OECD. She served as advisor to the Board of the Portuguese Research Funding Council (FCT) and the Agency for Assessment and Accreditation of Higher Education (A3ES). She has a PhD in Industrial and Business Studies from Warwick Business School.
Neda Bebiroglu, Ph.D. is scientific advisor and coordinator at the Observatory of Research and Scientific Careers at the Fonds de la Recherche Scientifique - FNRS in Belgium, a structure that aims to track and analyse the careers of researchers and develop knowledge on the doctoral and postdoctoral process. She is a member of the Expert Group for the OECD Global Science Forum on "Reducing precarity of research careers". Neda holds a Master's degree in Applied Psychology from New York University, New York (USA) and a Ph.D. in Child Study and Human Development from Tufts University, Massachusetts (USA). After completing postdoctoral fellowships at King's College London (UK) and Université catholique de Louvain (Belgium), Neda joined the Observatory of Research and Scientific Careers in 2018. She is currently responsible for two main projects: the "Future of PhD Holders", which targets the job transition of doctorate holders in the French community of Belgium and "Recruiting Talents" that is designed to evaluate the added-value of the doctorate degree for non-academic employers.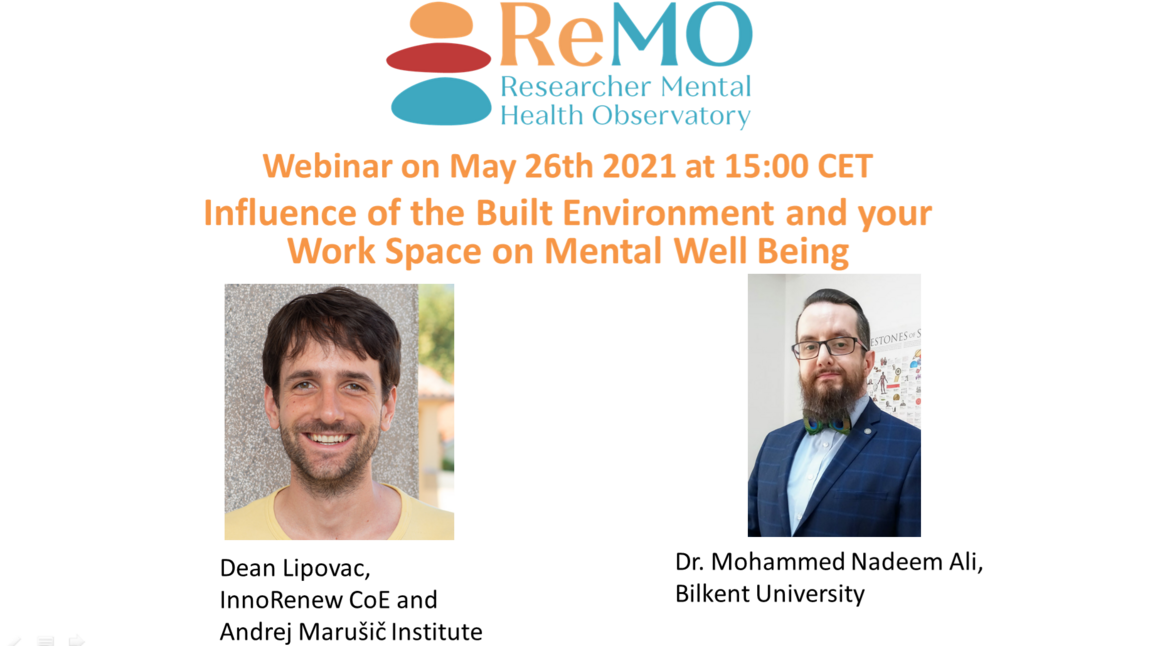 Register in advance for this meeting:
https://us02web.zoom.us/meeting/register/tZIodO2sqD8qE9K23xGDNyHI_mc_fKRDoCYz
After registering, you will receive a confirmation email containing information about joining the meeting.
Speakers

Dean Lipovac completed a master's degree in applied psychology at the Faculty of Mathematics, Natural Sciences and Information Technologies, University of Primorska, in Koper, Slovenia. He is a PhD student and an assistant researcher at the InnoRenew CoE and Andrej Marušič Institute. His work is focused on researching the effects of the built environment on mental health. He investigates how different materials used in indoor design influence physiological, emotional, and cognitive indicators of well-being. His long-term aspiration is to help create indoor environments that encourage a healthy mind and a healthy body.

Dr. Mohamad Nadim Adi is an assistant professor at Bilkent University, Dr. Adi completed his doctoral studies in the field of virtual reality and obtained his undergraduate degree and Master's in architecture from the UK. Combining these two fields, he developed a passion to understand and test new buildings and building materials using virtual reality. Dr. Adi has studied how people respond to different types of built environments using virtual platforms as a medium. He worked in several universities around the globe, in the fields of high-rise wood buildings, hospital design, dementia and elderly friendly design, and interactive architecture. He is currently looking into how different environments can affect the mental health of its occupants. His research has several potential inter-disciplinary applications involving health, education, and ergonomics. His work on dementia friendly hospital design resulted in changes to the Canadian building code and several publications and talks in various events globally. Dr. Adi was the first elected chair of ICoRSA where he led the GRIPP (Grounding Responsible Research and Innovation Practices) and RRING (Responsible Research and Innovation Networking Globally) projects in partnership with UNESCO and the EU. He also served as the Chair of the Canadian Association of Postdoctoral Scholars (CAPS).
Webinar on May 12th 2021 at 15:00 CET: How to win support for the Well-Being of Early-Career Researchers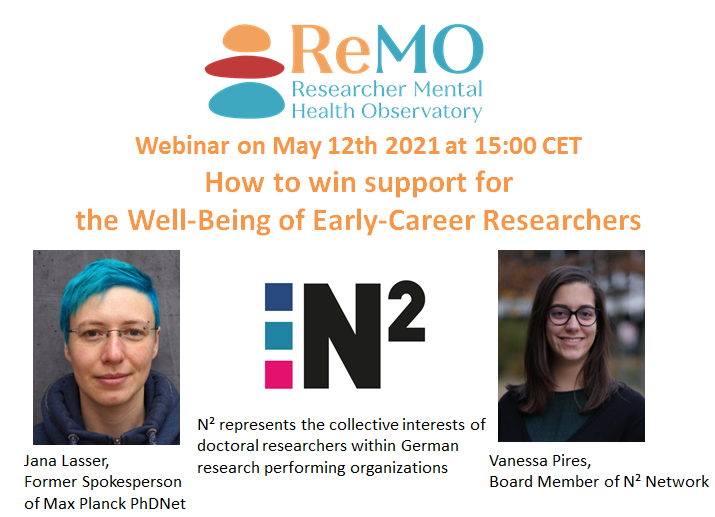 The N² network represents around 16000 doctoral candidates working in research institutes throughout Germany, mainly from the Max Planck Society, Leibniz Association and Helmholtz Association. In 2019, N² initiated a harmonized survey questionnaire which was sent to doctoral researchers in all four member organisations. The aim was to be able to compare the results between the organisations and increase their significance. The survey reports of the three full member networks of N2 can be found here. This webinar will discuss to what extent an evidence base was effective in influencing the policies of the research institutions with regard to power abuse, doctoral supervision, salary levels and provision of mental health support.
Register in advance for this meeting:
https://us02web.zoom.us/meeting/register/tZYtcOCtqjkuE9BSS0-qTxboUEU5Xbjg9EMr
After registering, you will receive a confirmation email containing information about joining the meeting.
Speakers
Jana Lasser is a member of the advisory board of N² - the network of doctoral researcher networks in Germany and management committee member of the ReMO COST action for Austria. The mental health of doctoral researchers was a major part of her agenda, when she served as the spokesperson of the Max Planck PhDnet and member of the board of N² in 2018. Next to these activities, Jana is a PostDoc in the Computational Social Science Lab at TU Graz, conducting research in the areas of digital health and misinformation spread.
Vanessa Borges Pires is an associate board member of N² - the network of doctoral researcher networks in Germany and a Student Representative of the International PhD Program (IPP) in Mainz. Vanessa is a Doctoral Researcher at Prof. Dr. Brian Luke's Lab in the Institute for Molecular Biology/Johannes Gutenberg University Mainz where she is studying RNA-DNA hybrids in Telomere Biology in S. cerevisiae.

Mental Well-being of Leiden University PhD candidates