ReMO Ambassador Programme: Becoming an ambassador for wellbeing in academia
1st ReMO Training School: 27th-30th June, 2022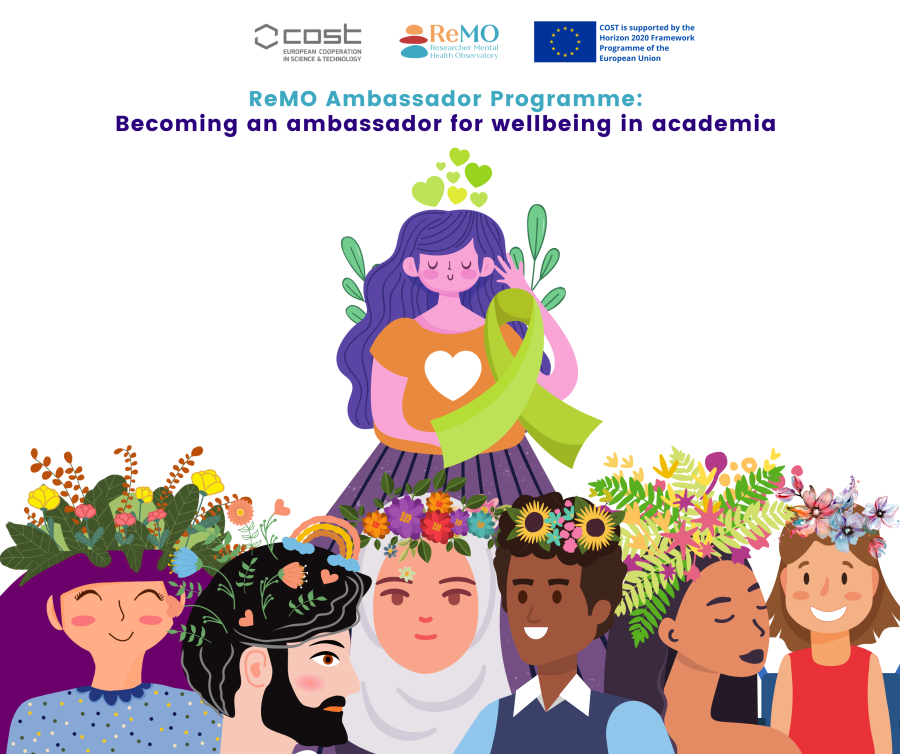 The ReMO COST Action focuses on wellbeing and mental health within academia. It aims at building evidence on both the prevalence of the issue and the best practices in, and then at challenging policy, institutions, and individuals to do their bit place to foster health research environments. You can find a description of the ReMO objectives in the ReMO Manifesto.
WHO CAN BECOME AN AMBASSADOR?
This training school is for anyone who wants to contribute actively to the objectives described in the manifesto. Whether you have already taken action for mental health in other contexts or you want to get started, we encourage you to apply to the ReMO Ambassador Programme and associated Training School.
WHAT WILL THE TRAINING SCHOOL COVER?
The Training School will offer a mix of lectures, workshops, and exercises that will lead you to develop an action plan to improve mental well-being at your organization, among your peers or within your country. You will get the opportunity to learn and think about the resources available to help individuals and the tools you need to discuss mental health within your institutions or with policy-makers. You will hear inspiring stories of people who have created peer-to-peer mentoring programs or initiated change within their institutions or countries. The program is accessible HERE
WHAT ARE THE COSTS?
The ReMO network will offer travel grants to participants to cover travel and other expenses related to the training school. Applicants who do not qualify for a grant or who cannot travel are encouraged to register for online participation.
WHERE WILL IT TAKE PLACE?
The training school will be a hybrid event with a face-to-face meeting in Grenoble with a live online meeting available for people who cannot travel to France.
The participants who can travel will come to Grenoble Ecole de Management, Grenoble, France. Grenoble is a city surrounded by three chains of mountains and is called the Capital of the Alps. Grenoble is also the Green Capital of Europe 2022, the home of the Synchrotron, a city where Artificial Intelligence, Technology, and Engineering are at the core of conversations. It is 1h from the airport Lyon St Exupéry, or 2h from the Geneva International Airport by bus.
The facilities of Grenoble Ecole de Management are accessible for people in wheelchairs. In case visual or hearing aid is required, please mention it in the application so we can accommodate your needs. The event will follow the COVID19 regulations of Grenoble Ecole de Management (refreshing the air, using gel, wearing masks). Part of the event will take place outdoors.
HOW TO APPLY?
You can apply by answering a few questions here.

The deadline is on the 18th April.
ORGANIZATION COMMITTEE
Local Organizer: Dr. Stéphanie Gauttier,  Grenoble École de Management, Grenoble, France.
Program organization committee:
Dr. Gábor Kismihók, Leibniz Information Centre for Science and Technology, Hannover, Germany;
Dr. Brian Cahill, Leibniz Information Centre for Science and Technology, Hannover, Germany;
Dr. Olga Vvedenskaya MD, Dragonfly Mental Health, Germany/USA;
Dr. Mayya Sundukova, Mare Curie Alumni Association Career Development Working Group;
Prof. Dr. Christiane Schwieren, University of Heidelberg, Germany;
Dr. Lorena Cudris Torres, Fundacion Universitaria del Area Andina, Bogota. Colombia;
Dr. Mohammed Nadeem Adi, Bilkent University, Turkey;
Prof. Gahbiche Msakni Hajer, Université de Kairouan, Tunisia;
Mr. Gabriel Saravalli-Burchfield, Columbia University, New York;
Ms. Shaikh Sumayya, Grenoble École de Management, Grenoble, France.