STAIRCASE: Sustainable Working Conditions in Academia Survey
The STAIRCASE survey, conducted by researchers for researchers, aims to bring about transformative change within the academic system, through the identification of factors that foster healthy and sustainable working conditions. By sharing your experiences regarding mental health and working conditions, you are directly contributing to the generation of valuable insights that will yield evidence-based recommendations for policy changes.
Please fill out the Staircase Survey here: https://service.tib.eu/remosurvey/index.php/817261?lang=en
Your participation is instrumental to ensuring proper representation of your institution and country. By actively participating, you enhance the likelihood of gathering sufficient data to develop tailored recommendations that are specific to your unique context and circumstances.
We will officially open the survey at a launch event on September 15th 2023 at 15:00 CET. Register now at: https://us02web.zoom.us/j/87436653967?pwd=bUxveGl1SldBL2l6NzhHbkF5cDRiUT09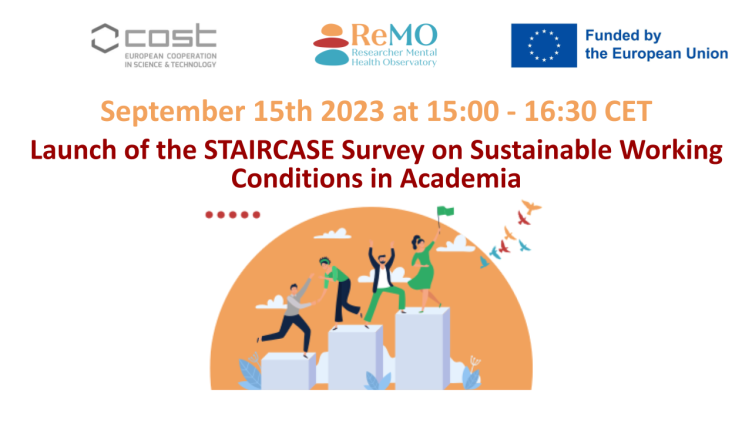 Join us for the official launch event of the STAIRCASE Survey on on Sustainable Working Conditions in Academia.

The STAIRCASE survey aims to understand the impact of working conditions on mental health and well-being in academia, enabling evidence-based recommendations for impactful change. It is part of the EU-funded Researcher Mental Health Observatory (ReMO), a COST Action that is building a network that advocates healthy and sustainable working conditions in academia.

The STAIRCASE Survey is a unique and transformative initiative in both its pan-European outreach and bottom-up driven approach. Your participation is needed to ensure a proper representation of your country and institutions.

Active engagement of as many researchers as possible will significantly enhance data collection and in turn enable tailored recommendations specific to your context. Take this opportunity to become part of a movement towards shaping a brighter future for all researchers out there.

Looking forward to seeing you at our launch event!
Introductory video of the STAIRCASE survey for Individual Researchers
Introductory video of the STAIRCASE survey for Institutional Representatives