In 1901, architect and university lecturer Karl Albrecht Haupt left his extensive private collection of books, print graphics, drawings and travel sketches to what was then the library of Hannover College of Technology. With a passion for travel and collecting, Haupt spent more than 25 years of his life compiling this collection. His collecting interest was very broad, as reflected in the heterogeneity of the collection, which can be divided in three main subcollections.
The first subcollection consists of around 1,600 volumes, including the key works of architectural theory from Italy, France, Germany and the Netherlands, spanning the start of the 16th century to the early 19th century. The second subcollection contains some 6,000 travel sketches, documenting his numerous study tours, and architectural study sheets drawn by Haupt. Particularly noteworthy in this subcollection are his studies on Renaissance architecture in Spain, Portugal and northern Germany, which provided the basis for a number of pertinent publications that were ground-breaking at the time. The third subcollection contains a bundle of individual graphic sheets by various authors and on different subjects, created for teaching and research purposes (a total of around 6,800 graphics on some 5,000 sheets). The sheets originate from all parts of Europe, and represent all periods of the modern era. They also contain works by contemporaries of important European artists including, as Haupt emphasised, "even those of Dürer, Altdorfer, Michel Angelo and other great Italians."
The collection not only includes print graphics and hand drawings on allegorical motifs, figurative and ornamental illustrations, garden vistas and interiors, but also, in particular, a series of architectural drawings comprising both blueprints and elaborate representation drawings.
Further information about using and searching the collection at TIB is provided here.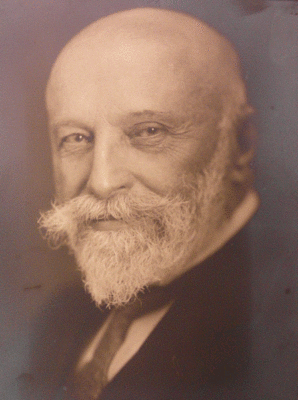 Karl Albrecht Haupt (1852-1932),
Fotografie, 1927 (Technische Informationsbibliothek (TIB), Slg. Albrecht Haupt)